comments? corrections?
email me at
lukerobt@history.ucsb.edu
Vietnam (Annam)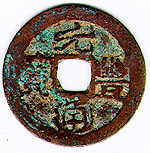 Privately Minted Coins
Southeast Asia has very rich tradition of private and semi-private, and rebel mintings, and its history is not yet well understood. These mintings of coins are so diverse that amongst East Asian cash collectors many coins of unknown provenance are arbitrarily assigned to Annam cash catalogues and lists. Many coins in the "private" mint section of Annam catalogues were likely made in China, Malaysia, Indonesia and other regions, but I will follow precedent by discussing them on this page.
I have been particularly attracted to the small privately minted coins referred to in Japanese as terui sen Žč—Ž'K and, I think, in English as "floaters," but some of these coins are as large and well made as imperial Annam issues. As my education is mostly through Japanese language sources (primarily Touyou kosen zuroku (Anasendou 1977)) I will use their terminology for describing Annam coins, although I will give the Vietnamese name of the coin itself where I can find out the reading. I am illiterate in Vietnamese but I hope there are no errors. People who can correct me please send me an email.
Concerning privately minted cash for which I do not find references, I have put them on a separate page; strange private cash.